Skilful winger Billy Ferguson made the brief step-up from Irish League to international football, before a challenge on Alan Ball put him back...
Name:
William Ferguson
Born:
28 May 1938, Belfast
Height:
5.05 ft
Weight:
9.07 st
Died:
November 1998
Position:
Winger
Representative Honours:
Northern Ireland: 2 Full Caps/1 Goal
(1966)
; Irish League: 9 Caps/1 Goal
(1960-1967)
, 1 'B' Division Representative Appearance
(1959)
.
Club Honours:
(with Linfield)
Irish League Champion; Irish Cup Winner
1959/60, 1961/62, 1962/63
, Runner-Up
1960/61, 1965/66, 1967/68
; Gold Cup Winner; City Cup Winner; Ulster Cup Winner; Co. Antrim Shield Winner
1958/59, 1960/61, 1961/62, 1965/66, 1966/67
; North-South Cup Winner
1960/61
.
Club Career:
Glentoran

Linfield
Biography:
A staunch Linfield fan as a youngster, Billy Ferguson began his senior career as a left-winger with arch-rivals, Glentoran. He made a single first team appearance at the Oval, against Ards during the 1956/57 season. In 1958 he played in the Intermediate Cup Final for Glentoran Seconds, losing out against Newry Town.
The following season Ferguson was a Linfield player, and although initially limited to the Swifts, he was rewarded with an appearance for the Irish League 'B' Division against the Scottish Central League during the 1959/60 season. That same year he made a definitive impact on the Linfield first eleven, scoring twice in a 5-1 Irish Cup Final victory over Ards.
By the time of Linfield's 'clean-sweep' seven trophy season in 1961/62 - when he claimed winner's medals in the Irish League, Irish Cup, Gold Cup, City Cup, County Antrim Shield and North-South Cup, but missed out on an Ulster Cup Final place - Ferguson was featuring regularly as inside-right, but continuing to star anywhere across the front-line if required. He played a total of 42 games that season, scoring thirteen goals.
When the Irish League were due to fly to Norwich for an inter-league game against the Football League in October 1962, Ferguson boarded the plane, but walked-off before take-off due to a severe fear of flying! Indeed Ferguson never once flew to a representative match, all his games played within land-travelling or sailing distance. He also missed out on a number of European adventures with Linfield, but did travel by road to Luxembourg for a tie against Aris in 1966.
Bertie Peacock selected Ferguson at inside-right for an end-of-season friendly against World Cup bound Mexico. Ferguson rounded off a 4-1 victory for Northern Ireland with the final goal of the game. Come the opening international match of the following season, against World Champions England, Ferguson had retained his place, starting on the right-wing. No player had ever been sent from the field in the British Championship, but Ferguson became the first to receive his marching orders in the tournament following an 'incident' with Alan Ball. The nature of this 'incident' has been variously reported as being a 'clumsy challenge', 'savage tackle' and a 'kick up the arse'.
Having won dozens of trophies in his decade at Windsor Park, Ferguson was given a free transfer in March 1969. He signed for Ballymena United, where he became club captain.
Billy Ferguson died in November 1998 following a long illness.
Northern Ireland Cap Details:
22-06-1966 Mexico.. H W 4-1 FR 1 Goal
22-
10-1966 England. H L 0-2 ECQ/BC

sent-off 84
Summary: 2/0. Won 1, Drew 0, Lost 1.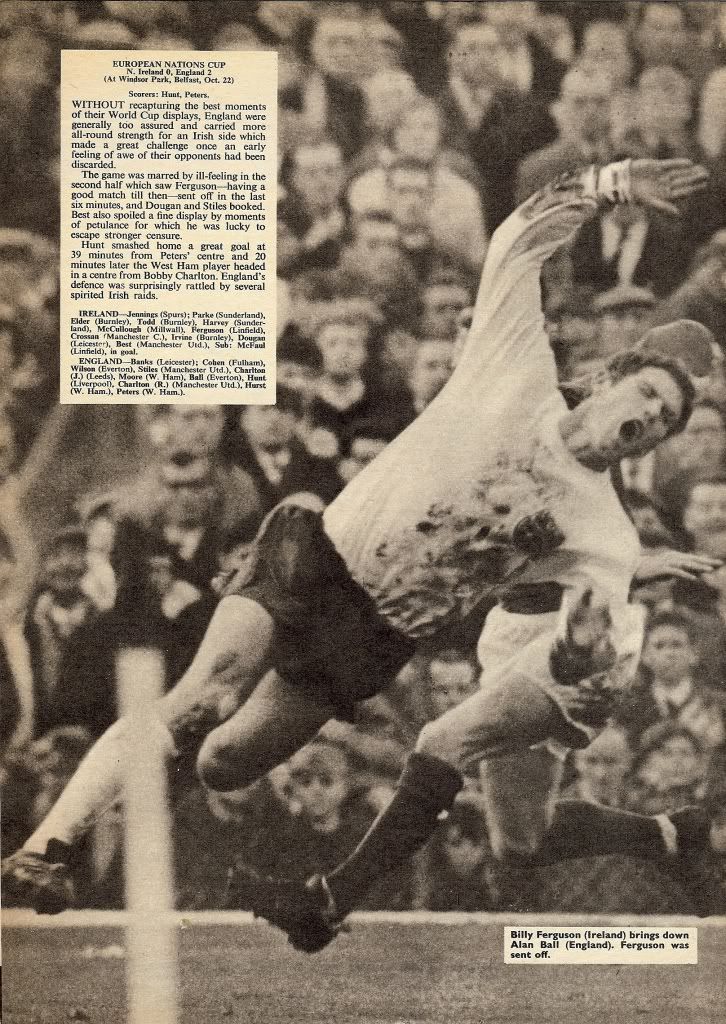 Scan supplied by Tubby Morton from the OWC forum.